MaxJax M7K Specifications, Dimensions, Features & Safety
MaxJax M7K Front View Specifications
A Height Overall               89.5″ (2,273 mm)
B Height of Column        64″ (1,626 mm)
C Min. Pad Height           4.5″ (114 mm)
D Max Lift Height (Pad Only)      47.5″ (1,207 mm)
E Max Lift Height (With 3″ Adapter)        50.5″ (1,283 mm)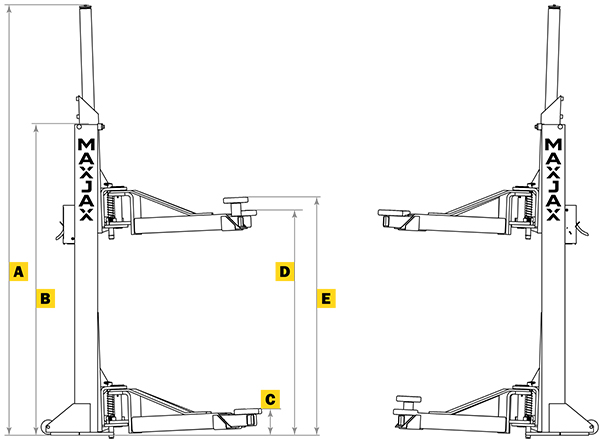 MaxJax M7K Top View Specifications
F Arm Reach (Min – Max)             660 mm – 1,016 mm
G Typical Width (Outside of Base Plate) 2,667 mm – 3,429 mm
H Drive-thru clearance  1,880 mm – 2,642 mm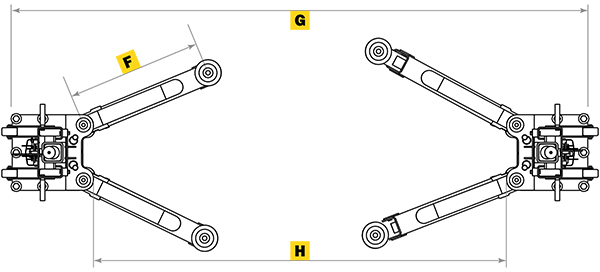 MaxJax M7K Base Plate Specifications
A             371 mm 
B             330 mm 
C             150 mm 
D             24 mm
E             165.5 mm 
F             20 mm 
G            20 mm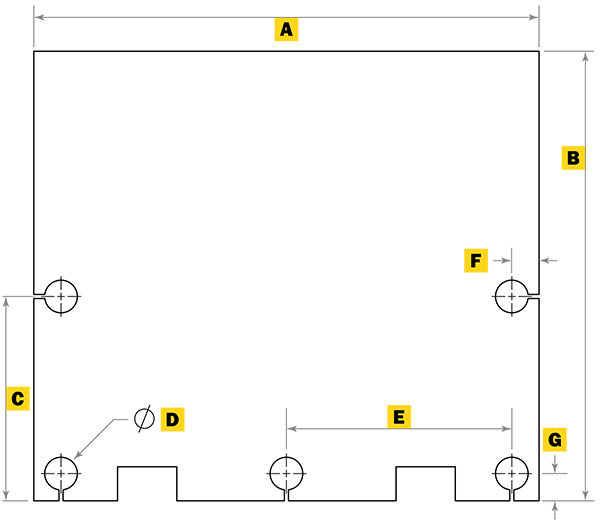 MaxJax M7K other specifications
Lifting Capacity 3175KG / 7000LBS
Locking Positions             7 (every 7.62cm)
Motor   208-240 VAC / 50-60 Hz. / 1 Ph.
(16A Breaker, C characteristic)
Time of full Rise               75-seconds
Individual Column Weight           136 kg
Shipping Weight   435 kg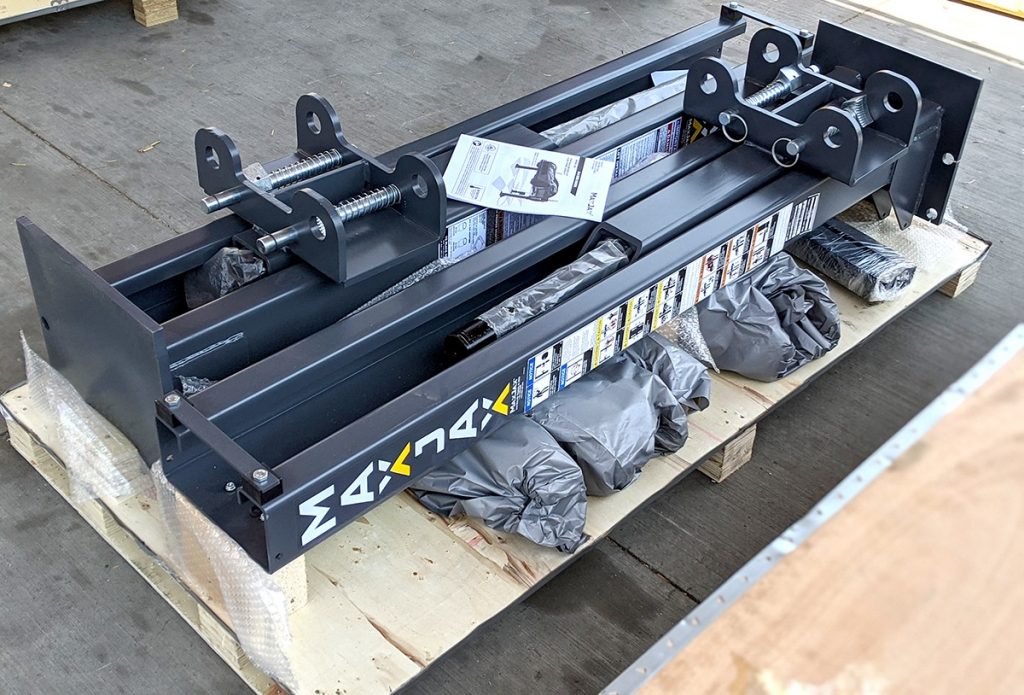 Concrete Requirements
Most residential or commercial foundations are strong enough to support a MaxJax lift. The minimum requirements is 2500-3000 PSI 4.25″ /11CM thick concrete. Be sure to check your floor on the possibility of it being a post tension slab.

Clear undercar access
No other low-rise or mid-rise lift system provides more under-car clearance and unobstructed floor space than the MaxJax lifting system. Now you can easily access engine undersides, transmissions, drive-shafts, starters, differentials or anything else requiring under-car access.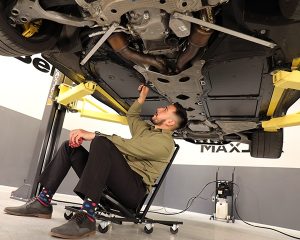 Portability
A two-post car lift with built-in wheels that allows you to use the lift when you need it, then conveniently store it out of the way when not in use keeping your garage and vehicle lanes clutter-free.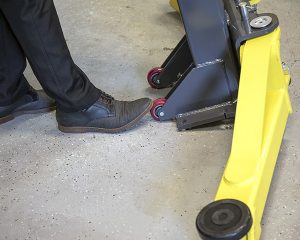 Stow to go in less than 15-minutes
Internally threaded recessed drop-in anchors and quick-connect/disconnect hydraulic couplers provide for fast and simple set-up. NOTICE: Before drilling into post-tension garage floors, always consult a building engineer for determining cable locations and where to avoid drilling.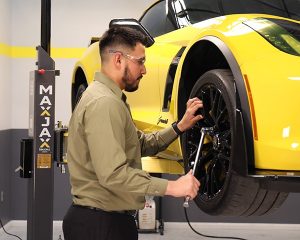 Works like magic
A cast iron gear flow divider is the heart of the MaxJax® system, providing precisely equalized lifting. The specially designed flow divider/combiner is a positive-displacement fluid control device with precise flow division of hydraulic power from one column to the other even if load balance pressures change.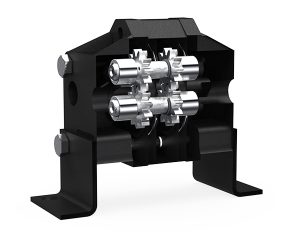 Mobile power unit cart
Our standard mobile power unit cart is small enough to be stored out of the way and features a storage area for the hydraulic hoses. The hydraulic power unit uses a single-phase motor that requires 110-volts AC and a 23 amp breaker. The industrial grade power cord is 6-Ft. long. A simple push-button switch raises the lift and a push lever controls the lowering. Simple quick-disconnect hoses can be positioned easily for single or dual column operation.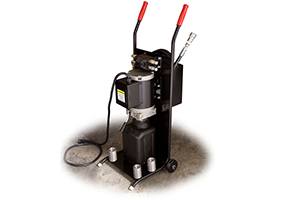 Adjustable lifting arms and stackable adapters
Increases overall arm positioning for lifting a variety of different vehicles that have Uni-body construction, OEM recommended pick-up points, or wide and/or narrow frame configurations. Every MaxJax order includes four (4) medium height adapters and four (4) stackable standard lift pad adapters.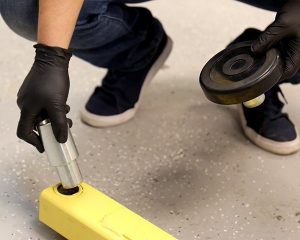 Low-profile arms
Fit under the lowest compact and sport vehicles or custom motorcycles with lowered frames.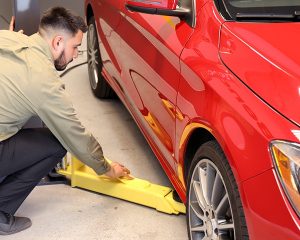 Automatic arm restraints
Each arm is equipped with durable arm restraints that automatically engage each time the lift is raised. When the lift is lowered, the gear type arm restraints automatically disengage to provide easy positioning of the lift arms.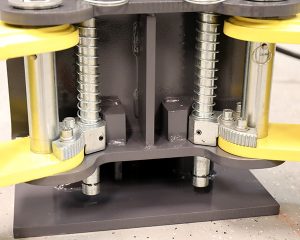 Two lifts in one
Our optional motorcycle adapter kit allows you to safely lift motorcycles, ATV's or other motorized vehicles to a comfortable working height.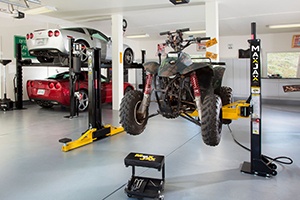 MaxJax M7K Safety locks
MaxJax M7K includes 7 safety lock positions. The safetylocks are semi-automatic. Meaning:  When lifting the safetylocks will automatically engage. once a locking position has been reached, you can lower the lift into the locking position. By doing this, the Maxjax will completely resting on the safetylock and will not rest on hydraulic pressure. When the lift needs to be lowered, the lift has to be raised out of its locking position and disengaged by flipping the handle, the handle will release the safety lock. 
The space between each locking position is 7.6CM
What is included when you order our patented one-of-a-kind MaxJax® Portable Car Lift?
You Get it all! When ordering the Standard MaxJax M7K you almost* have everything you need to start lifting. 
A. Left Column 
B. Right Column
C. Hydraulic Portable Power-unit (208-240V AC)
D. Low Adapters 5CM (Set of 4) 
E.  Stackable standard lift pad adapters (set of 4)
F. Low-profile arms (set of 4)
G. Installation Manual
*Hydraulic oil NOT included, can be purchased separately in our webshop.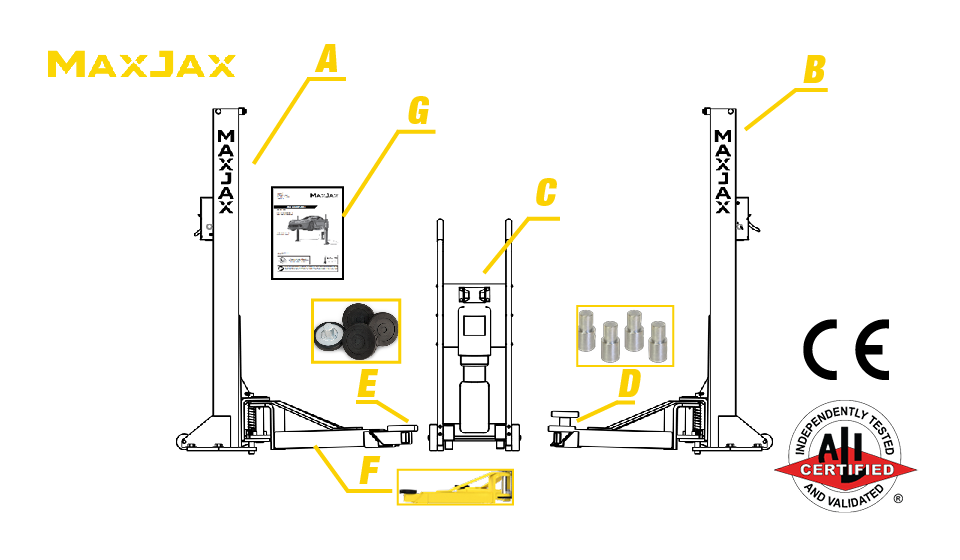 Standard 10pcs Anchor Bolt Kit (included)